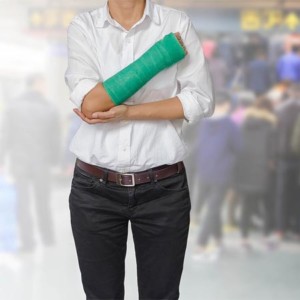 If you are involved in any kind of an accident that results in injuries to you (or someone else), the most important responsibility is to make sure any necessary required medical attention is provided as soon as possible.
If there are injuries involved, you must get to the hospital/doctor ASAP because any delay in seeking medical attention will detract from the seriousness of your injury and reduce compensation for any such injury. If you do not have medical insurance (or otherwise cannot afford your own medical care), you should seek out a medical provider who will treat you on a "lien basis".
Besides getting necessary medical treatment, you should document what happened by getting all related information about all persons involved, including insurance/motor vehicle information, witness name(s), addresses and telephone/contact info and photgraphs if possible.
Make sure to know where you can get a copy of the traffic collision report if one is being prepared by Police or Sherriff's dept. If some type of fall is involved, take photos of the area as it was at the time asap, and save what you were wearing (and carrying).
You should also notify your own insurance about any accident or potential claim. If any cross-claim is made against you, your insurance should handle it.
Last, but not least, contact an attorney who will be able to assist you process your claim(s).